Salami "Zia", Coppa di Testa and sliced Salami: the differences
Come and try these cold cuts in our farmhouse in Pontemaodino
Among the various regional specialties that deserve a taste, it is impossible not to refer to the Coppa d'estate, Coppa di Testa and Salama da sugo: three typical meats with an unmistakable taste, to be enjoyed during a lunch or a dinner at the agriturimo Il Dosso!
How do they differ? And what are the similarities between them? It's time to find out!
Salama zia: the Ferrarese salami par excellence
Do not be afraid if a Ferrarese tells you "I would really like to eat a slice of aunt", it is not a cannibal, he is simply saying that he wants a slice of salami.
The recipe of the salami "Zia Ferrarese" are ancient, it seems it was already included in the cookbook of the master Cristoforo Messisbugo.
The distinctive feature of this salami is undoubtedly the presence of garlic, very common in the territory of Ferrara, the name owes to the type of casing in which it is stuffed, medium-thin, which is called, in fact, aunt.
Coppa di Testa: rich flavor with a thousand combinations
Coppa di Testa, also typical of Ferrara, is prepared with a mix of tongue and lean meat, taken from the head of the pig, cooked and enriched with salt, pepper and other aromas. The addition of garlic, on the other hand, is optional. At the end of processing, the dough is stuffed into a special casing.
Compared to the Coppa d'estate, the Coppa di testa has a richer flavor and decided, but still balanced. For this reason, it was traditionally consumed during the autumn season and in the winter months, both as a filling for slices of bread, and with cheeses and preserves in oil.
Come and try it in our farm in Pontemaodino in the winter months!
Salama da sugo: for those who love strong tastes
We conclude with the salama da sugo, the real queen of Ferrara cuisine.
It is prepared by grinding various parts of the pig such as neck cup, pillow, lean pulp resulting from the trimming of the thigh, intended for the production of ham and shoulder, a small percentage of tongue and liver is added, to which, in the contemporary recipe, salt, pepper, nutmeg are added.
It is usually accompanied by the puree that 'tames' and 'refines' its flavor.
Where to taste the typical cold cuts of Ferrara?
To taste the Coppa d'estate, the Coppa di Testa and the inevitable Salama da sugo, the best choice is to book, for lunch or dinner, at our farm in Pontemaodino.
You can, in fact, enjoy a delicious menu of tradition, starting from an appetizer based on cold cuts, passing through the cappelletti or a single dish with Salama da Sugo and purè, and then ending with the most delicious desserts, like the pampepato, the soup or the famous tenerina cake.
1200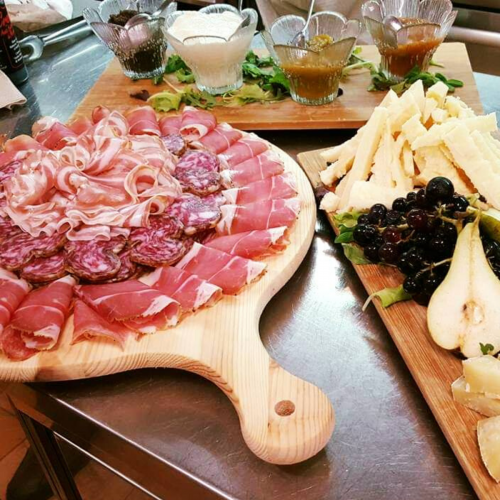 RICHIEDI_INFO: NOT FOUND
RICHIEDI_INFO_TEXT: NOT FOUND