5 destinations to visit in Comacchio
Maybe starting from our farmhouse
The town of Comacchio, located about halfway between Ferrara and Ravenna, is one of the most famous seaside resorts on the Adriatic coast. However, the sea is not the only attraction of the place that, between history, culture and gastronomy, has a lot to offer to tourists on vacation: from museums to natural parks, from testimonies of the past to beautiful architecture.
To visit Comacchio, a good solution is to sleep in our farmhouse in Pontemaodino. Moving towards the coast, in fact, is quite simple: it takes about 30 minutes by car, to reach the most beautiful maritime areas with beaches equipped with all comforts, fine sandy beaches and an incredibly clean sea.
We have chosen, therefore, five extraordinary destinations to be included in your travel itinerary, which you can admire during a holiday between Ferrara, Comacchio and surroundings.
1. Po Delta Regional Park
If you like beautiful views and unspoilt nature, the Po Delta Regional Park will certainly leave you breathless. Located near the mouth of the river, the reserve extends between the provinces of Ferrara and Rovigo, giving wonderful emotions to hikers.
2. Bridge of the Trepponti
If you love to visit the places rich in history, the complex known as Ponte dei Trepponti, or the ancient access to the town center, located along the Pallotta waterway, can not miss in your tour: a brilliant architectural work, built in the seventeenth century.
3. Manufacture of Marinated
Comacchio is a town rich in historical evidence: one of the best known is the Manufacture of Marinated, an ancient factory where, in past centuries, was processed fish, with techniques remained the same over time. In particular, the structure was known for the valuable fish specialties caught in the nearby areas, then stored and sold in Italy and abroad.
Today the Manufacture of Marinates is only partially operational. Visitors can access the museum areas, as well as some rooms - such as the Sala dei Fuochi and the Sala dell'Aceto - once used respectively for marinating and subsequent conservation of eels.
4. The Duomo and the Loggia dei Cappuccini
Just a few steps from each other, the Duomo di Comacchio and the Loggiato dei Cappuccini are two attractions that embellish the historic center of the town. You can visit both places during a pleasant morning walk or at sunset, when you return from the beach.
Less known, but not for this of less impact, is the Church of the Carmine, a place of worship with an intimate and intimate look, with a historic altar and a large bell tower that stands on the nearby buildings. In a couple of minutes walk, you can also reach the Parish of Santa Maria in the Aula Regia and enjoy, in the warmer months, the pleasant shade created by the porch.
5. Lake of Nazioni
We end the list with this artificial basin, born initially for sports activities and, then, became a tourist attraction, where today we regularly practice sailing and canoeing.
1200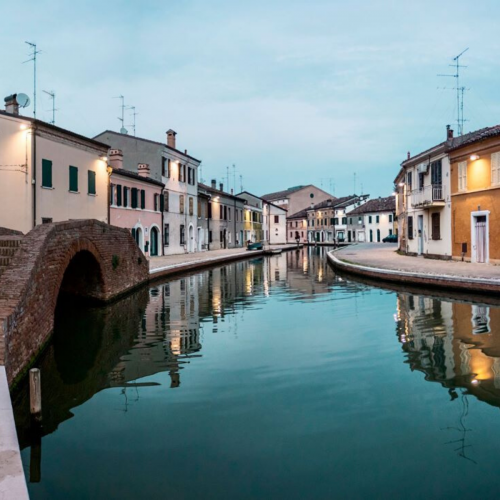 RICHIEDI_INFO: NOT FOUND
RICHIEDI_INFO_TEXT: NOT FOUND