Fresh pasta, 5 reasons to choose it
Come to our farmhouse in Pontemaodino
If we were to think of a food or a dish that, more than others, represents Italian cuisine in the world, pasta would undoubtedly be at the top of our list, along with other specialties, such as pizza, considered a real 'symbol' of the Bel Paese.
Compared to the latter, however, pasta has a considerable advantage: it lends itself, in fact, to the preparation of very different recipes, also because of the wide range of formats and types that are on the market. Spaghetti, butterflies, linguine, strozzapreti, tagliatelle... there is something for everyone!
Anyway, there's a big difference between the pasta we can buy at the supermarket and the hand-made pasta. Fresh pasta, in fact, has a peculiar consistency and an unmistakable taste and, therefore, can be seasoned in many ways: with sauces,, vegetables, minced, fish, etc..
What makes it so special - and good! - fresh pasta? Here are 5 reasons why you should prefer it!
1. A tribute to tradition
Eating fresh pasta, no matter if purchased at a craft workshop or made with your own hands, means paying homage to the Italian tradition of good food. For a long time, in fact, pasta was processed by the women of the family, according to techniques handed down over the centuries.
If you want to reproduce a traditional recipe, then fresh pasta is the best choice.
2. Characteristic formats
Some pasta formats - such as tagliatelle - are now widely used and, therefore, can be easily found in the supermarket. Other types, considered more niche, have instead remained in a more circumscribed, often linked to a certain territory, so they are less available.
If you need a less known format, you will need to contact a pasta factory.
3. Single consistency
Fresh pasta has an unmistakable consistency: soft, porous, slightly rough to the touch.
These characteristics make it an excellent base for sauces and various condiments, which would not have the same taste - and the same goodness - with the use of industrial pasta. Or, again, for the preparation of tortelli, ravioli, agnolotti, cappelletti and many other typical shapes of stuffed pasta.
4. Lightness and genuineness
By choosing a trusted artisan pasta factory to buy your fresh pasta, you will be sure to consume a quality product: light, digestible but, at the same time, incredibly tasty. It is, therefore, also perfect with particularly rich and delicious condiments (meat, salami, etc.).
Alternatively, choose a farmhouse in Ferrara and surroundings, just like Il Dosso, which offers a classic Romagna and Ferrara menu (in which, of course, you can not miss the fresh pasta).
5. High quality flour
The most famous and appreciated artisan pasta factories are those that prefer high quality flour, better if coming from organic farming and/ or zero km, to offer a production of the highest standards, which is aimed at both lovers of good food, both to the best restaurants.
1200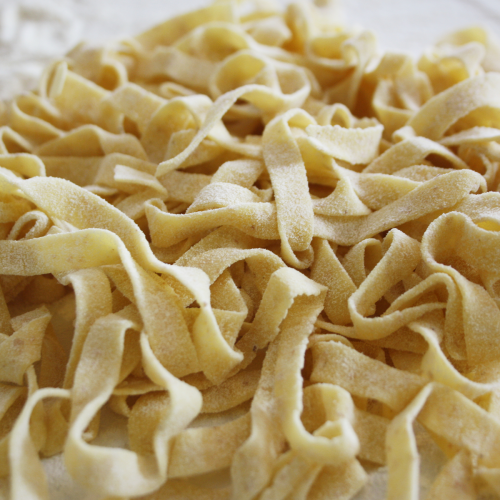 RICHIEDI_INFO: NOT FOUND
RICHIEDI_INFO_TEXT: NOT FOUND